Nimz1466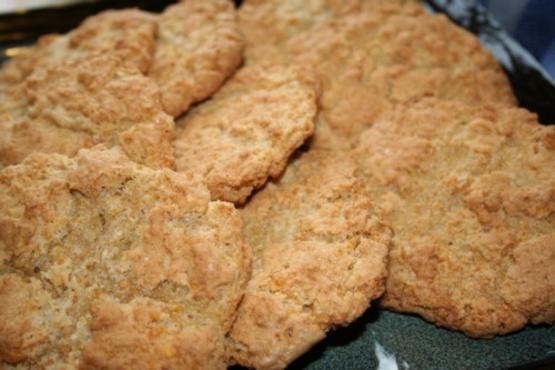 My grandmother always has these cookies in the cookie jar. For a nut-free version, I use 1/2 c extra corn flakes. Can also sub bran flakes, wheat flakes, Total cereal, whatever you have on hand. Makes a very thin, crunchy but chewy cookie. One of my husband's favorites.

Top Review by Hunkle
These cookies are heavenly! I used Frosted Flakes because that was all I had on hand. Since they are already coated with sugar I used half the amount of sugar the recipe calls for. On my first batch I mixed in the cereal without breaking it up. However, the cereal flakes came out a bit chewy for my taste. So on the second batch I whizzed them for a couple of turns in the food processer before adding them to the mix. My cookies didn't spread as much as the cookies in any of the other photos. Then I realized I misread the measure and had used less than a 1/4 cup of butter (duh). Nonetheless, they turned out fantastic and perhaps a little healthier. Thanks so much for sharing! My kids will love you forever.
Cream butter with sugars.
Add egg and vanilla.
Mix flour, baking powder, salt and baking soda.
Add to butter mixture.
Stir in pecans and cornflakes.
Drop by teaspoonfuls onto ungreased cookie sheets.
Bake at 375 for 10-12 minutes.