Grandma's Fabulous Carrot Cake (No Pineapple!)
Um Safia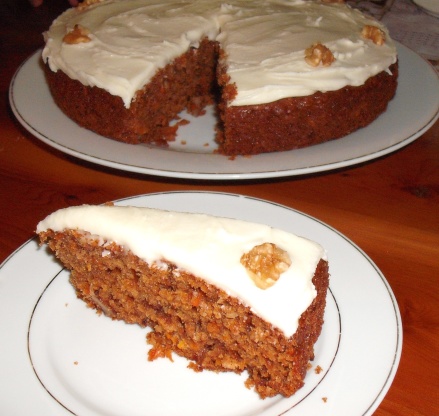 This recipe has been in our family for years and is the most requested. It produces a moist, delicately spiced cake which improves as each day passes! Store in an airtight container and eat within 10 days. There is no pineapple in this recipe (or my other carrot cake recipe). Minus the frosting, this cake also freezes perfectly.
Preheat oven to 175°C.
Grease and line an 8" square or round tin.
Beat sugar, oil, treacle, golden syrup and eggs till smooth.
Sieve flour, bicarb and cinnamon and fold into mixture. Mix well.
Stir in grated carrots, coconut and walnuts and pour into prepared tin.
Bake for 1 hour or until firm to the touch.
Leave to cool a little in tin, then turn out onto rack and leave till cold.
Beat the margarine with the icing sugar, cinnamon and lemon juice. Add enough water to make a thick but spreadable frosting.
Decorate with walnut pieces.