Grandma's Custard Pie (Yellow Pie)
Bev I Am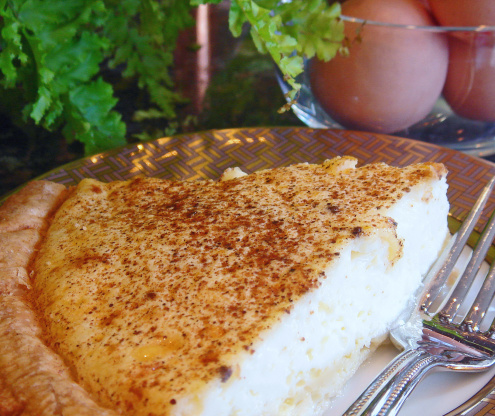 My grandma made the most wonderful custard pie. When I got to stay the night or weekend with her, she would always have this for me. Of course I could never ever make this like I remembered until I finally asked her for the recipe. One thing I cannot replicate is the use of fresh whole milk, but have come up with a pretty close substitution. THIS is comfort food at its' finest.

Thank you, Cindi, for posting this recipe of your grandma's. It was just as I remember my mom making. I followed your directions about the milk and the half and half and the custard turned out so creamy. This recipe brought back so many wonderful memories and I'll be making it again.
4

eggs, slightly beaten
1⁄2 cup sugar
1⁄2 teaspoon salt
1⁄2 teaspoon vanilla
1⁄8 teaspoon almond extract
2 1⁄2 cups milk, scalded
freshly grated nutmeg

9

inches unbaked pie shells
Preheat oven to 400 degrees F.
Scald milk (I use 1 cup half and half mixed with 1-1/2 cups whole milk). Set aside.
In large mixing bowl slightly beat eggs, blend in sugar, salt, vanilla and almond extract.
Gradually stir in scalded milk. Do not overbeat as this will create an unwanted foam. Pour into prepared pie shell and lightly sprinkle freshly grated nutmeg over the top.
Bake 30-35 minutes or until knife inserted in center of pie comes out clean. Remove from oven and let cool 30-60 minutes before slicing and serving.