Grandma's Cranberry Sauce
MsSally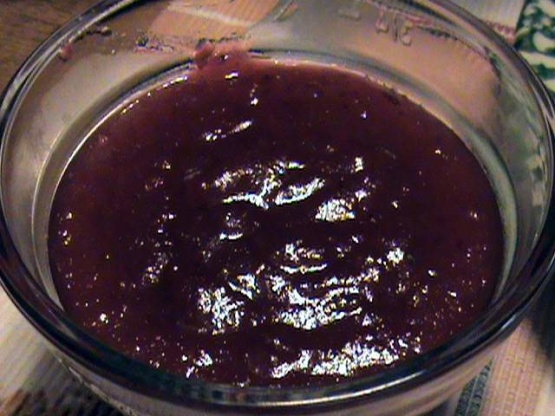 This is the only cranberry sauce that I have found that I like. It is my grandmother's recipe. This is the original recipe. I am going to modify this year to do whole berries and just pare the apples ahead of time.

With more natural pectin (it's in the apples), this jells faster than plain jellied cranberry sauce. The apples also add sweetness, so it takes less sugar. Cranberries are sold in 12-oz bags these days. I use 2 apples, 2 c sugar, and 1 c water with a 12 ounces of cranberries.
Cut up 3 medium apples with peeling. Put in kettle with cranberries and water.
Boil until skins pop.
Push cranberries through fine sieve into bowl to capture the skins of cranberries and apples.
Add sugar to bowl and then put back to boil. Cook for 5 minutes. Pour into bowl.
Let Cool before putting saran wrap on and putting in fridge.