Parsley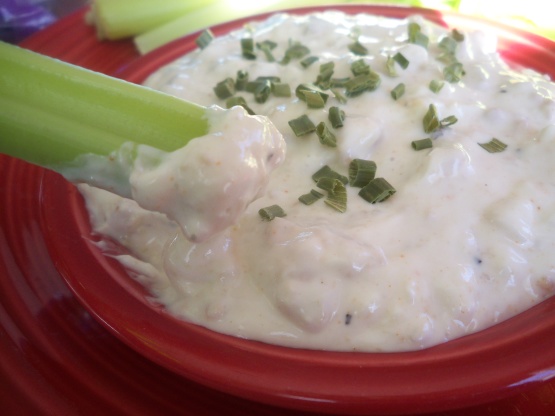 A very tasty but not too "clammy" clam dip that was a favorite ar Grandma's while I was growing up and is now a favorite of my 11-year old son

Oh happy day, my childhood is back! As a native of Maine, clam dip was a staple at ANY party/picnic/bbq. Now I live in the Midwest, and even seeing a clam in a supermarket is a rarity. This dip is "wicked good!" My ONLY suggestion is to add a bit of mayonnaise. The cream cheese only version is a bit too dense for my liking. If you are used to a typical "ranch" or "french onion" style dip, I highly suggest adding a tablespoon or two of good ol' mayo. Also, I too was not sure if I was supposed to add the clam juice from the can. I added 2 or 3 tablespoons, and I think this turned out perfect. Note- The clam taste does take a few hours to blend with the cream cheese, just give it time. When in doubt, save the clam juice and add more if need be. The man of the house never tried clam dip before, claims he hates clams, but LOVED this dip. A MUST for anyone! You will definitely be the hero of any potluck gathering! ***** 5 stars!
put all ingredients into blender.
mix until everything is fully blended (texture of clams is up to you).
serve with ruffles (my favorite).