Grandmas Cheddar Cheese Spaghetti
Parsley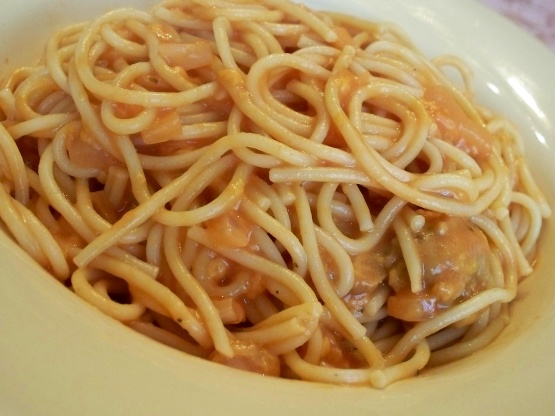 My Grandmother made this for us some 50 years ago. I have found it to be a great kid pleaser, even the fussy ones! It is affordable and simple to make. I like it better reheated for two minutes in the microwave and it freezes well.

This is exactly what I was looking for. This is so delicious, I can't stop eating it. I added about 1/4 tsp of garlic powder, other than that I followed the recipe to a tee. Thank you so much for sharing.
Prepare spaghetti pasta according to package directions.
While spaghetti is cooking; in a separate saucepan add butter or olive oil, chopped onion and salt.
Cook onions until they are soft (careful not to burn your onions).
Add the tomato juice and bring to a slight boil.
Add the cheese and blend until the cheese is almost melted.
Drain spaghetti and place in an oven proof dish.
Pour the sauce over spaghetti and mix together.
Place in a 350 F oven for about 10 - 15 minutes to allow the noodles to absorb the sauce.