Grandma's Buttermilk Coffee Cake
diner524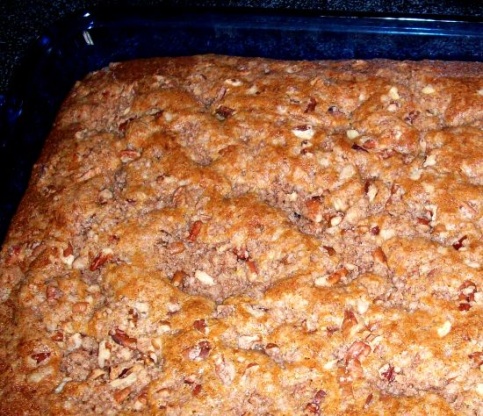 This is the best coffeecake I've ever had! So easy to make and always a hit. Not sure if it is really grandma's recipe or if she got it somewhere.
Delicious!!!! This gets 5 stars for the great results and taste!!! The only thing I would change with this recipe is the way it is written. I would write the ingredients in order as they are in the Directions. I would suggest that the Directions say to add the sugars, in #2. My topping mixture, from #2 of the directions, didn't get feathery, it was clumpy but well blended. Mine did take 30 mins+ to get completely done. The only changes I made was that I made my own buttermilk (1 tab. lemon juice with one cup milk) and used pecans. Thanks Busy Lindsay for a wonderful recipe. Made for Spring PAC 2008.
Preheat oven to 350 degrees.
Mix flour, salt, and 1/2 teaspoon of cinnamon into a large mixing bowl. Add sugar and oil and mix on medium speed until well blended and feathery.
Remove 3/4 cup of this mixture and put in a smaller mixing bowl for the topping. Add walnuts and remainder of cinnamon to the contents of the smaller bowl for the topping, mix well and set aside for later.
To remaining mixture (not the topping) add baking soda, baking powder, egg and buttermilk. Mix until smooth, this is the coffeecake batter.
Spoon the cake batter into a buttered 9 x 13 baking dish. Sprinkle the topping over the cake batter and press lightly with fingers. Bake at 350 degrees for 25 - 30 minutes.