Grandma's Buttermilk Coffee Cake
diner524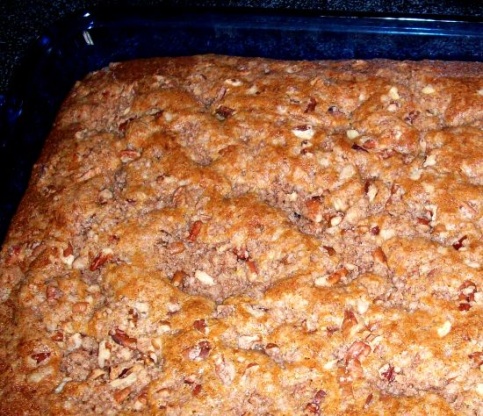 This is the best coffeecake I've ever had! So easy to make and always a hit. Not sure if it is really grandma's recipe or if she got it somewhere.

This is originally from Sunset Magazines Bread book. Circa 1960s. My sister made it frequently and I figured she had created it until she revealed the source..Sunset Magazine in Menlo Park CA. I hadn't made it in years and tried again today with disappointing results. Not the recipe's fault tho, we now live in Colorado at 6000+ ft. Obviously going to have to adjust for the higher altitude. We're not in the SF Bay Area anymore. Bummer.
Preheat oven to 350 degrees.
Mix flour, salt, and 1/2 teaspoon of cinnamon into a large mixing bowl. Add sugar and oil and mix on medium speed until well blended and feathery.
Remove 3/4 cup of this mixture and put in a smaller mixing bowl for the topping. Add walnuts and remainder of cinnamon to the contents of the smaller bowl for the topping, mix well and set aside for later.
To remaining mixture (not the topping) add baking soda, baking powder, egg and buttermilk. Mix until smooth, this is the coffeecake batter.
Spoon the cake batter into a buttered 9 x 13 baking dish. Sprinkle the topping over the cake batter and press lightly with fingers. Bake at 350 degrees for 25 - 30 minutes.