Grandma's Apple Brown Betty
katew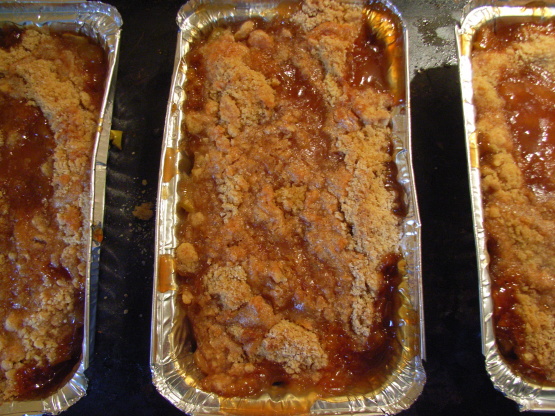 This recipe belonged to my Grandma, she made it often. We love it, comfort food at it's best. Hope you enjoy!

This is an excellent recipe to put to use those apples God made. There are a few things that I found important in making this recipe taste good though. The apples you use can make or break this recipe. I made this recipe with granny smith apples, and it was pretty good, but nothing really special. Now, when I used Missourri galas, it was extraordinary. My mom said it was better than any apple pie she has had in restaurants. The sweetness of the MO galas really made the difference, and the granny smith's paled in comparison with their tartness. I also used Penzey's spices cinammon which is still fairly new (this is a blend of about 4 different kinds of cinammon). If you ever get ahold of that cinammon, you won't regret it. Don't forget to top each piece off with one or two scoops of vanilla ice cream. Choose a fairly normal or old fashioned vanilla ice cream that doesn't have a fakey vanilla taste like you would find in Blue Bunny for example. We actually found a decent, but cheap brand at Aldi called Sundae Shop that worked very well on top of this brown betty.
Pre-heat oven to 350 degrees.
Arrange slices in the bottom of a lightly greased 12x9 pan.
Sprinkle with cinnamon.
Mix flour and brown sugar.
Cut in butter until crumbly and set aside.
Syrup: Combine ingredients and stir well.
Drizzle half of mixture over apples.
Cover with flour mix.
Pour remaining syrup over top.
Bake at 350 for one hour.