KateL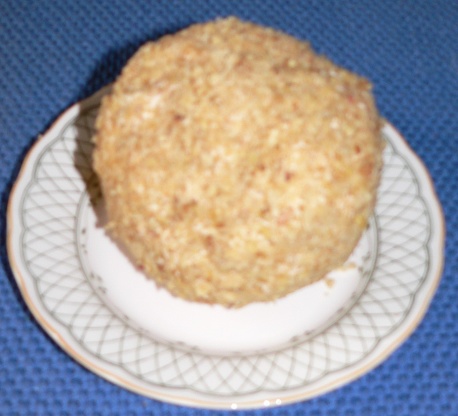 This has more cheddar cheese than some other recipes, which I like. My grandmother used to make this frequently. Once when I was returning to college, she gave me part of a ball so that I could share it with my roommates. They thought it was fantastic and promptly asked for the recipe! Cooking time is approximate chilling time.

Top Review by KateL
3 Stars, because I would make changes. This made a very pleasant cheese ball. I recommend wearing latex gloves when you mix the ingredients (which I allowed to chill 24 hours before I formed and coated the cheese ball) and when you roll the ball in chopped nuts. I chopped 1 cup of walnut halves in my food processor and had 3/16 cup left after I coated this 4-inch diameter cheese ball; a pasta dish was the perfect size for the ball coating step. The cream cheese predominated, and I admit a personal bias for a higher proportion of cheddar cheese. I wanted to add some extra zing to it, so I would consider adding 1/4 cup chutney, thinly sliced stuffed green olives, or thinly sliced green onions -- but wouldn't it be even better to prepare this cheese ball as it is and surround it with a relish tray with each of the additions as an optional garnish for your guests!
Combine softened cream cheese and cheddar, mixing until well blended. (My grandmother did this with her hands, and that's what I have done, too.).
Add remaining ingredients except nuts. Mix well. Chill.
Shape into ball. Roll in nuts. Serve with crackers.