Grandma Wanda's Cabbage & Dumplings
Prep 25 mins
Cook 15 mins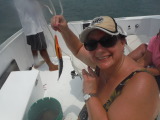 Very simple and tasty. Great with pork roast & gravy. This is "My" dish to bring to Oktoberfest.
Directions
Chop cabbage into large chunks and steam until clear in color; drain.
In same pan melt butter, sauté onions, add seasonings and cabbage.
Dumplings:.
Measure flour in to a deep bowl. Make well in middle of flour. Add eggs and seasoning. Start beating eggs and gradually mix flour into eggs; will make a stiff dough. If too dry add a little milk. Drop about 1/4 tsp into boiling water. Best if spoon dipped into hot water after each dumpling - they will come off the spoon easier. Dumplings are done when they float to the top.
Remove dumplings directly to cabbage mixture, combine and enjoy.
I have successfully served in a crock pot on low setting for parties.
Most Helpful
Really, really good. I love cabbage, and the tasty little dumplings made this real comfort food. We had this with some sausages in tomato for a great homey meal. Thanks!

Absolutely Wonderful! Our Grandma would cook this dish up all the time and we just Love it. Thanks, Kasia