Grandma Solberg's Banana Cake
ChefLee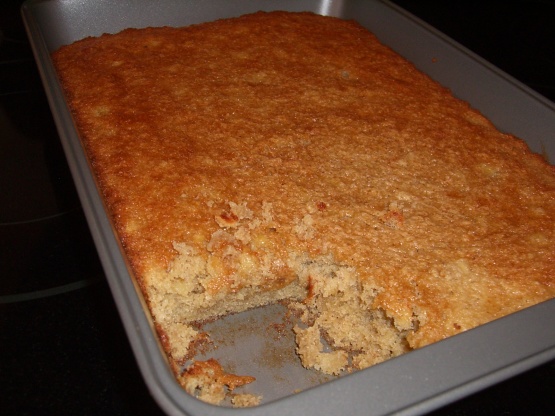 I have never tasted a banana bread that I liked because my Grandma always made this cake instead when there were overripe bananas, and no banana bread can compare to this!

This cake is awesome!!!! The nutmeg just makes it out of this world!!!! It is sooooo moist and creamy-cakey instead of like banana bread. We couldn't stop eating it. It is one of those cakes that doesn't even need icing, it's so good!! I saw that Grandma Solberg also has a brown betty recipe on Zaar that looks good (don't tell my mom, she gets into brown betty competitions with our neighbor Minh). Thanks for posting your grandma's great recipe!!
Preheat oven to 350.
Sift all dry ingredients together (flour, baking soda, salt, nutmeg).
Cream the butter and vanilla in a large bowl, gradually adding sugar.
Beat in eggs one at a time.
Beat in dry ingredients.
Add bananas and butttermilk.
Bake in 9x9 pan for 35 - 45 minutes.