Grandma Roses Italian Genettis 1946
Jill L.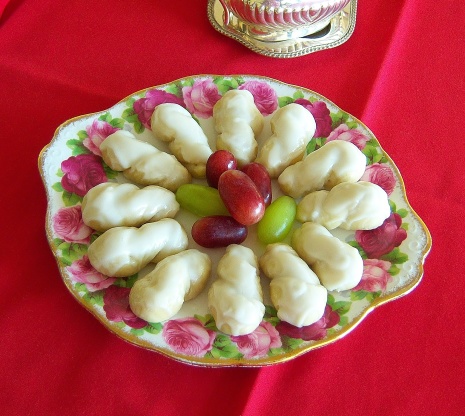 Soft Italian cake type cookie. this recipe has been in the family before I was born, so I will label it as 1946...

As a child I grew up with these cookies. Looking for the recipe for years untill I lucked out with putting in Italian puff cookie and wala,here it is. I made them the next day waiting for my first tast of memories. As I took the first bite I started to cry I was a child again sitting on my grandmothers porch eating this cookie all over again. That was 50 years ago. Thank you andypandy for bringing me back to a part of my childhood that I had lost many years ago.
Beat eggs with oil and sugar five minutes.
Combine the milk and anise flavour.
Combine the flour and salt and baking powder.
Add dry ingredients into wet ingredients.
Make a soft, very soft dough.
Soft but not sticky.
If you add too much flour they will be dry cookies.
Roll pieces of dough into finger lengths,and widths, and shape into a figure 8.
Bake on parchment lined cookie sheet.
Bake 350F for 8 to 10 minutes, just bottoms slightly golden.
Tops should have no colour.
Frost with a glaze of , icing powder, and anise flavour; drop of milk.