Grandma Pindur's Baked Beans
flower7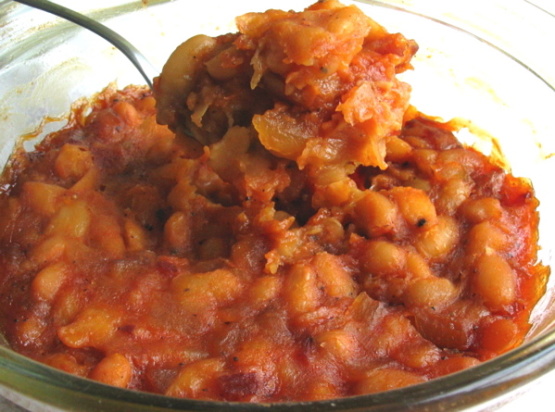 These are the best homemade baked beans I ever had!!! My Grandma has been making them for years.

Delicious! I thought I knew how these would taste but they were even better than I expected! I cut this in half but only used 3 slices of bacon, cut in 1/4-inch pieces. Otherwise stuck to the recipe (except I didn't add any salt). Used lots of fresh ground black pepper. Thanks to you and your Grandma for the great recipe! :) ~Apr 5, 2008.
Update: I made these today for a Father's Day cookout but because it was so hot I didn't want to turn on the oven. I put them in a slow cooker on high for about 3 hours and they were perfect. I did add a little more bacon than I did last time but otherwise made as before. Thanks again for the great recipe - everyone loved them!
Pre-heat oven to 325 degrees.
Pre-cook bacon in large frying pan until fat is rendered and lightly brown about 5 minutes.
Mix all ingredients in a baking or cassrole dish. Cover with lid or tin foil.
Bake at 325 degrees for 2 hours.