Grandma Marty's Famous Monkey Bread
2Bleu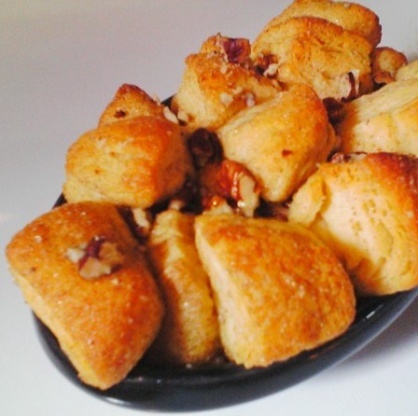 This is a holiday tradition with our extended family, kids love it. We have it Easter, Thanksgiving and Christmas morning. It is especially easy to serve on those busy family occasions and keeps the crowd happy until the main event. It makes quite a large cake!
3

(10 count) cans biscuits (not buttermilk)
1 2⁄3 cups brown sugar

2 -3

tablespoons cinnamon
3⁄4 cup butter
1⁄2 cup chopped nuts (or more)
Cut 1 1/2 cans of biscuits into quarters and shake in plastic bag with 2/3 cup brown sugar and cinnamon.
Melt 1 1/2 sticks butter with the remaining cup brown sugar and bring to a boil and stir well.
Place the quartered and sugared biscuits into a greased bunt pan and drizzle with half the butter mixture and half the nuts.
Cut remaining biscuits into quarters and shake with the remaining cinnamon and sugar and place on top of the previous biscuits in the bunt pan. Drizzle with the remaining butter mixture.
Bake 30 - 40 minutes at 350 degrees.
Serve immediately.