Grandma Mac's Cinnamon Toast
loof751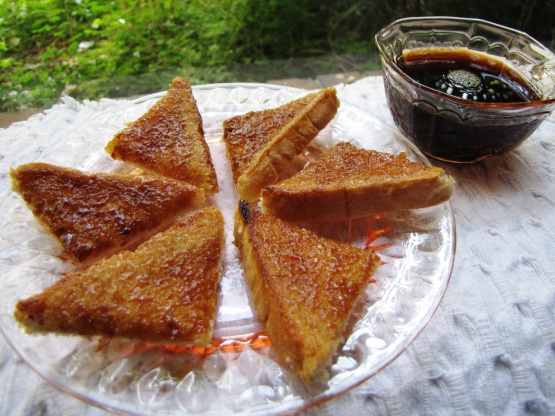 This recipe is different from the other cinnamon toast recipes that I have seen on this site. You start off making a brown sugar/cinnamon and butter mixture and then the toast is briefly broiled. From the Best of the Best from Ohio Cookbook.

As one of my friends would say, "Yummy-licious!" My hubby made this cinnamon toast for Sunday morning breakfast, and our family happily gobbled down each morsel like famished beasts. The toast is just the right amount of crunchy with a deeply flavorful cinnamon-butter spread that crisps just slightly when broiled, while keeping the toast slightly moist in the center. For other cooks who may be unfamiliar with the broiling method (like my hubby), I advise to use the lowest heat setting and place the oven rack 10-12 inches from the heat source. Perfect results! Thanks so much, Crafty Lady for sharing your recipe!
In a small mixing bowl, cream together butter and brown sugar until light and fluffy. Beat in milk, cinnamon and salt. Spread entire top of lightly toasted bread with butter mixture. Place on a cookie sheet and broil briefly until mixture bubbles. (Watch carefully as these will burn quickly.) Cool slightly on a rack; cut into triangles, and serve warm for breakfast toast. Cover and refrigerate remaining butter mixture for future use.