Grandma Kay's Swedish Pancakes
Bergy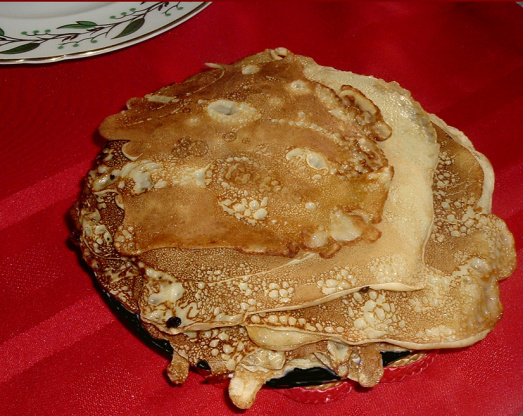 Once you get a taste for these, you're going to want them. You're going to want them a LOT. Kids really go for them. Serve these with Lingonberry preserves, they taste really scrumptious!

This is a very difficult recipe to make. The batter is very runny. I used a crepe pan and try as I might, I could not turn these things. And cooking on one side didn't work either! I varied a number of elements trying to make this recipe work but to no avail. We are living in Sweden and my daughter loves the pancakes here. She suggested that I not try this recipe again.
Allow eggs and milk to rise to room temperature.
Beat eggs until frothy; slowly add milk.
Blend in each ingredient separately.
Add the flour 1 tablespoons.
at a time; add the butter last.
(Batter will be thin and may contain lumps- not to worry!) Heat griddle or skillet on medium to med -lowheat.
Add a small amout of butter and swirl around.
Pour batter onto the hot griddle by the tablespoonful; turn pancakes when they become bubbly.
Cook until golden and remove to plate.
Note: You may keep stacks warm in the oven on low while you cook a bunch of these up.
Serve with butter, Swedish lingonberry or Swedish strawberry preserve and a dusting of powdered sugar.