Grandma Katie's Famous Sausage Rice
VickyJ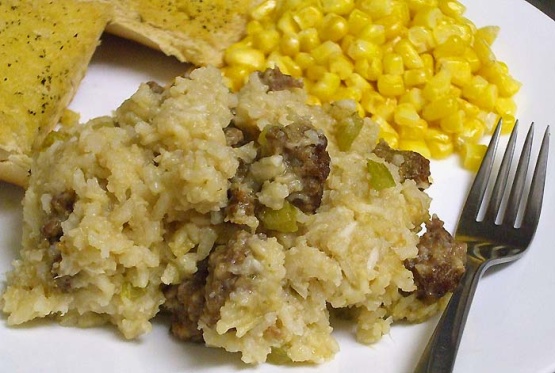 Another family heirloom recipe passed down to us family members! Different than the other Sausage recipes - give it a try!

*Made for Australia/NZ Swap #63* WOW ! You could feed a small army with this ! I made 1/2, using 1 cup rice and 1 pound sausage, 4 1/2 cups of veg. broth (needed to use) -- and couldn't get it all in a 3 quart casserole ! Since there are just 2, we had leftovers for 2 meals ! This is very tasty and well-seasoned, though I did not add salt. Other than chopping, went together quickly. Made something similar years ago, but didn't save the recipe -- I WILL save this ! Thanks for posting, Mom2Rose.
Use a food processor to finely chop the onion and celery (or you can do it by hand).
Brown sausage, celery and onions in a large skillet, drain off fat.
Place in large casserole dish.
Mix dry soup mix with the 9 cups of boiling water and cook for 5 minutes.
Mix all ingredients together and bake covered at 325F for 1½-2 hours.