Bec6206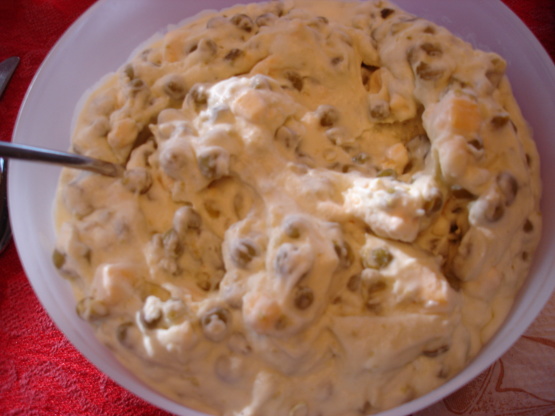 This is the recipe for Pea Salad that my grandma always made, and now my dad makes it during the holidays; a great side dish. To make the whipped cream, use the Whipped Cream recipe I have posted: #80157.
6

slices Velveeta cheese, cubed

1

(15 ounce) can peas, drained

4

small sweet gherkins
1⁄4 cup onion, diced (1 slice of a med. onion)

2

cups whipped cream (non dairy or regular)

1

cup Miracle Whip
Mix whipped cream and salad dressing with the beater.
Add 2 shakes of pepper and add salt to taste, to the whipped cream and salad dressing.
Fold in the rest of the ingredients and refrigerate.
Enjoy!