Grandma D's Famous Snickerdoodles
Babycat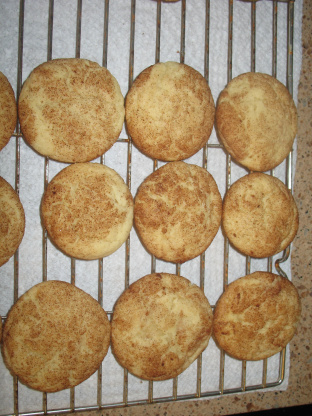 It's a bold statement, but in my opinion --- There has been no Snickerdoodle yet to top Grandma D's Snickerdoodles. I've tried a dozen variations. These are famous in our family for good reason.
Heat oven to 400°F.
Mix together butter, shortening, 1 1/2 cups sugar and eggs.
Blend in flour, cream of tarter, baking soda and salt.
Shape the dough by rounded teaspoonfuls into balls (I make the balls larger than that. The bigger the ball, the bigger your cookie.)
Mix the 2 teaspoons sugar and the 2 teaspoons cinnamon together.
Roll the balls in the sugar/cinnamon mixture.
Place the balls 2-3 inches apart (depending on size) on an ungreased baking sheet.
Bake 8-10 minutes or until cookies are set.
Immediately remove from the baking sheet.