Grandma B's Super Waffles
Leslie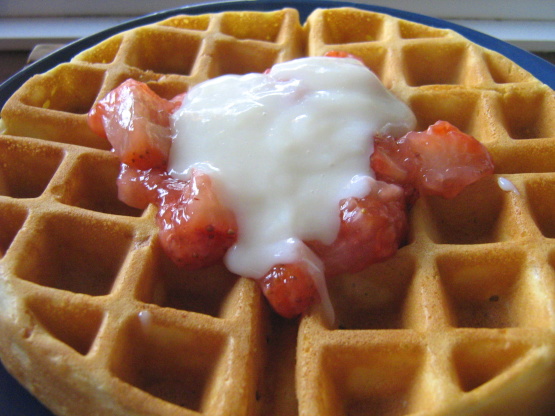 This was my grandma's favorite waffle recipe. It has become a family favorite enjoyed on special occasions not only by her grandchildren but great-great grandchildren as well. The clipping is yellow with age clipped I suspect from the local daily paper many many years ago.

Gerry this is a great waffle recipe. Nice and crisp and tasty. Only thing I changed was to add a teaspoon of vanilla. My DH loves waffles so this will be a nice breakfast tomorrow. Thanks.
note: if you do not have sour milk or buttermilk measure 2 tablespoons vinegar into your 2-cup measuring cup and fill to the two-cup mark with sweet milk and let it stand while you prepare other ingredients.
Sift together: 2 cups all-purpose flour 3 teaspoons baking powder 1 teaspoon baking soda 1 teaspoon salt.
Combine: 2 cups sour milk or butter milk 4 eggs well beaten Add the milk and eggs to dry ingredients,beat until smooth with a hand mixer or electric mixer on high speed.
Stir in 3/4 cup melted margarine or salad oil.
Bake in preheated waffle iron until crisp and golden. For large maker 2 cups for small maker 1 cup batter.
Serve with your favorite toppings.