Grandma Becky's Calico Beans
CarrolJ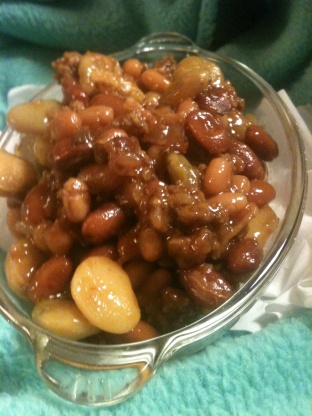 My mom made up this recipe when I was little and it always reminds me of growing up. We make it for every family function and it travels well too if made in the crock pot.
I'd give this recipe 10 stars if I could. I've been searching for this recipe for over 20 years. The last time I tasted this wonderful dish, I begged the gal who brought it to the potluck for the recipe. She refused stating it was a family recipe and would stay that way. I was so disappointed then, and for every year since when I tried to find the same taste from other recipes. My search is over. DH loved it. Now that I have this recipe...it will be in my regular rotation of favorites. So good! I can't think of enough adjectives. It's just plain terrific! Made for PAC Spring 2013.
Bake 1 hour at 350 or heat in crock pot for several hours.