Grandma Ackroyds Rice Pudding
Diana 2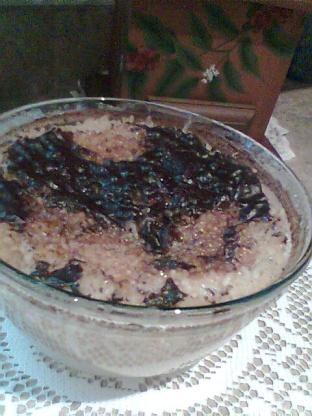 This was my Mother-In-law's recipe, that we now save for holidays, special occasions and when we need a good dose of 'comfort food'. (The guys always fight over the nutmeg skin that forms on the finished pudding). She had a 'rice pudding' bowl, which she used only for that purpose. She would mix everything in the bowl, and then fill it with water. Making the 'bowl' an integral part of the recipe. It took a bit of fiddling, but we now have the exact measurements. After spooning into serving dishes, some like to pour a bit of cold milk over top. I prefer it straight up. Last year I wrapped up Grandma's bowl, along with the pre-measured ingredients, and gave it to our Son for Christmas. The bowl has become a very important part of our family. I hope you enjoy this as much as we do.

5+ stars for this rice pudding! I made it for my mom because it is her favorite but I had to keep a bowl for myself and rice pudding is not one that I am fond of. Sprinkled some cinnamon on top along with the nutmeg and pinched off the pieces of butter. I baked mine for 1 1/2 hours and have a risotto type rice pudding that is creamy with plump rice that I really enjoyed. If you want a creamier pudding maybe bake for 1 hour and 15 minutes. This would be even yummier with some cream poured over. Diana thank you so very much for posting your DMIL's recipe. Made and reviewed for Pick A Chef - Spring 2009.
Preheat oven to 350*.
In a large oven proof bowl, mix together sugar, milk, rice, water and vanilla.
Dot the top with butter, and sprinkle generously with nutmeg.
Bake for 1-1/2 hours.
Let the pudding sit for at least an hour before serving.