Grand Peres (Quebec Style Maple Syrup Dumplings)
Joe C.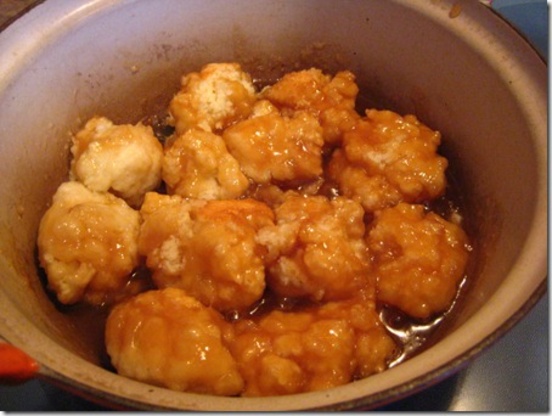 The term is French for grandfather. These rich dumplings are perfect for syrup.
Bring syrup and water to a boil in a 6 qt Dutch oven over medium-high heat.
While the syrup/water is rising to a boil, whisk flour, baking powder, and salt in a bowl. Set aside.
Grate butter on large holes of a box grater into flour and toss to coat. Add milk and stir with a fork until dough forms.
When syrup mixture reaches a boil, use a spoon to drop large clumps of dough into syrup.
Cover pot and simmer until dumplings are cooked through (10-15 minutes). Spoon dumplings and sauce into 6 bowls and serve.