Grand Marnier Hot Chocolate
BarbryT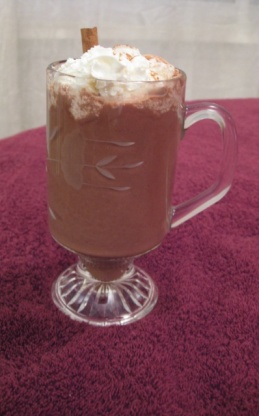 The orange flavored liqueur mixed with hot chocolate is guaranteed to warm your spirit. If you'd prefer a slightly spicy variation, add 1/4 tsp of cayenne pepper to each mug. There are some great packaged hot chocolate mixes available, so choose your favorite or create from scratch. Enjoy :)
Make the hot chocolate according to package directions (or follow your favorite recipe)
Pour one ounce of Grand Marnier into each coffee cup and fill the cup with hot chocolate.
In a bowl lightly whip the fresh cream and spoon on top of the hot chocolate.
Insert a cinnamon stick in each cup and serve.
WAAA LAAA ;).