chia2160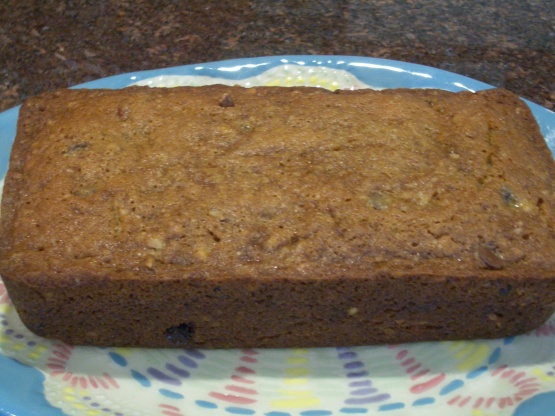 I know everyone has their own favorite way to make this! Here is my Gram's recipe. I decided to add it to Zaar since it is just a little different (no walnuts!); plus I won't loose it this way. She used butter flavored Crisco sticks for shortening. Updated 6/11 - I tried this out with whole wheat flour and it came out just as yummy as all purpose flour. Try it!

this made a very moist delicious bread. i did add to the ingredients, i threw in a handful of semi sweet chocolate chips and a handful of chopped pecans. i also added a tsp of vanilla. this took an hour to cook in my oven, i lowered the heat to 325 for the last 15 minutes. i made this for pac 08
Cream sugar & shortening.
Add eggs & beat.
Add bananas and mix.
Sift dry ingredients into batter, stir in with wooden spoon.
Spray bottom of loaf pan with Pam, then flour it. Add batter.
Bake at 350 (maybe a little under) for 45 minutes (maybe a little more).