Boomette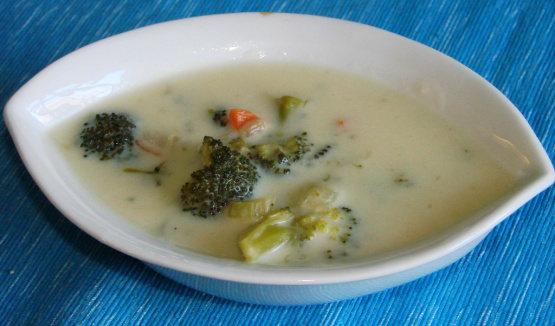 My mom is famous for this soup - it's fantastic!

This soup was a pleasure to make just because it is so colorful. The fact that it has wonderful flavor does not hurt it this reviewer one bit either. Here are a few notes on the way I fixed my roux since megnbrycesmom had some trouble with hers. I put the onions in a small saucepan because I wanted them to sweat as they sauteed. I then added the flour and starch and yes it did get very pasty. But I continued to cook the roux for 2 minutes. Mind you that was not the easiest thing to do but it can be done. I proceeded to add 2 cups of milk into the pan and whisked the best I could since it was a small saucepan. I then strained that into the soup pot with a Tupperware plastic strainer since it had large holds. (Do not use a fine strainer.) Added the onions and what lumps were left back into the saucepan along with the last 2 cups of milk and just went on whisking out those lumps. This worked great! Added the cheese and now I'm enjoying a very nice bowl of broccoli soup with no floury after taste. Thanks Grammy :-) I hope this review will be helpful to those who might not be use to making a thick roux. Made for *1 2 3 Hit Wonders* game 2007
Combine broccoli, celery, carrots, water, and chicken bouillon in a large soup pot. Boil 20-30 minutes.
While vegetables are cooking - In a saucepan, saute onion in butter until tender.
Add cornstarch and flour to butter mixture, stirring until browned.
Gradually add milk and cook, stirring constantly, until thick. Add shredded cheese and stir until melted.
Add the cheese sauce to the broccoli mixture and stir until well combined. Simmer until heated through.