LadyRoza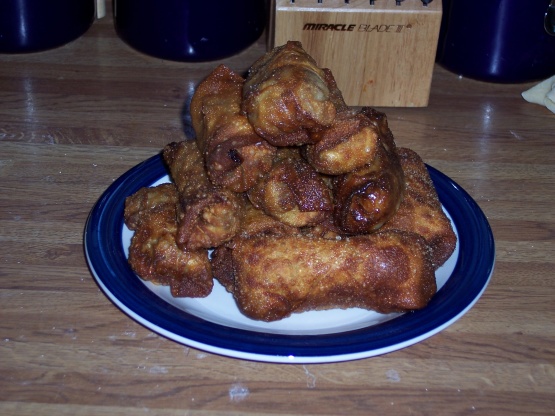 This egg roll recipe was given to me by my Grandmother "Grammie" a while ago and I JUST got done making a batch, they taste and look WONDERFUL! Its just a basic recipe and it can be substituted in many different ways. I'm not a spicy food lover so I even substituted it a bit. ENJOY! CAUTION: DON'T BITE INTO IMMEDIAETLY; ALLOW TIME TO COOL COMPLETELY.

Top Review by Ducky
Wow! I never knew making egg rolls was so easy! I used ground beef since we don't eat sausage but found that it needed some sort of seasoning. I didn't use all the ginger called for but still found the flavor to be quite strong. Next time I would use less of it. It also seems the egg rolls should be brushed with egg or something since they don't brown too much and they are quite floury (might be the brand too). I baked these. I can't wait try this again with different fillings! This was made for Pick A Chef fall 2007.
Brown sausage and break up into small pieces until its no longer pink, remove from fire.
Add slaw, scallions, ginger, and garlic and mix well.
Drain excess oil.
Spread egg roll wraps on a clean surface and add 1/3 cup of mixture diagonally on egg roll wrapper.
Fold corner over filling, then fold up both sides, moisten edges of last flap, and roll over until the flap is completely wond around.
Seal with water or egg white.
TO FRY: Heat two quarts of oil over medium high heat to 350 degrees.
Add 3 or 4 filled egg rolls, deep-fry and turn continuously until golden brown.
For crisper skin, fry for 3 minutes, remove and allow to cool; then fry for 4 minutes more.
Drain egg rolls on paper towel.
TO BAKE: Place filled egg rolls on cookie sheet and back at 350 degrees for 20 minutes.