Gramma's German Pancakes With Honey Butter
Debber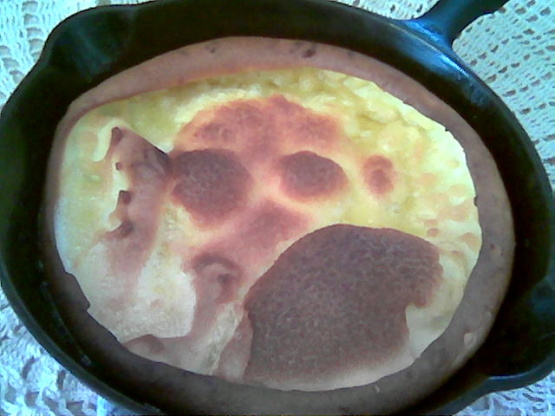 Gather the children when you pull these out of the oven--lots of oohs & aahs at the puffy cakes! My mother-in-law featured these on her restaurant breakfast menu, and usually makes them at least once when we're visiting. Serve with Honey Butter (below) or some warm fruit compote.

What a trea! Crispy and fluffy and OMG the honey butter! Made for brunch today as part of ZWT6. I halved the recipe with no difficulty. Lovely way to end a meal. I will be making this regularly for fruit toppings and as a breakfast treat and a special dessert. Thanks for KEEPER!
Preheat oven to 375°F; put oven rack in middle position.
While oven is heating up, divide butter in half (1/4 cup each). Melt one of the halves. The other half, divide again, and place pieces in two large cast-iron or stone-ware frying pans. Place pans in oven while it preheats.
In a blender, mix melted butter, eggs, sugar, flour and milk.
Remove pans from oven, swirl butter around slightly up the side of the pans.
Pour half of the flour-milk mixture into the first pan, the remainder in the second pan.
Quickly return pans to the oven. Bake until fluffy, golden brown and crispy, about 45 minutes. The puffiness goes down as it cools. Serve immediately with Honey Butter (follows).
PREPARE HONEY BUTTER: While the pancakes are baking, rinse out blender; pour in warmed honey and start blender on medium-high.
Slowly drizzle in half of the 1/2 cup melted butter; mix for 10 seconds, then add remaining butter. Mix for 3 minutes (if you can stand the racket!).
Add cream and vanilla; blend/pulse just enough to mix it in .
This makes 1 1/2 cups and is best served warm.
Store leftover honey butter in fridge. Reheat for just a few seconds in the microwave--do NOT boil!