milliwuu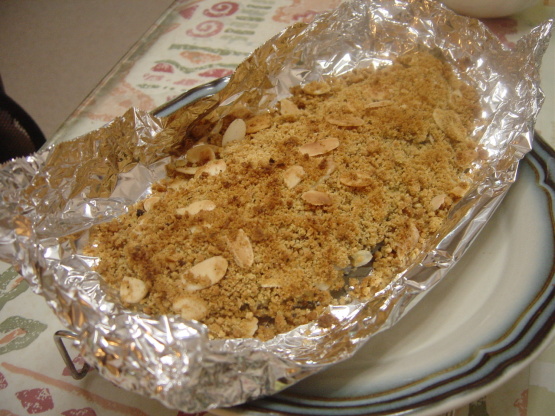 No flour padding, no egg dipping, no frying, just a quick, low fat and scrumptious way to have dinner fish.
FISH

1 1⁄2 lbs cod fish fillets (or other white fish)

1

tablespoon olive oil

TOPPING

2

crackers (1 oz. or 28g, or digestive cookies or cheese crackers or bread crumbs)
1⁄2 teaspoon salt

1

teaspoon cumin (or your favorite dried herbs)

1

tablespoon garlic, chopped

1

tablespoon parmesan cheese

1

tablespoon sliced almonds (or pumpkin seeds or other nuts)

1

tablespoon basil, coarsely chopped (or coriander or your favorite fresh herbs)
Put fish on foil, soak up excess water with tissue and brush with olive oil.
Pound crackers up in a plastic bag, put in all remaining ingredients and shake well.
Layer the cracker mixture on fish and bake at 170degreesC or (350 degreesF) until cooked through and nicely colored on top, about 20 minutes.