Gracie's Double Chocolate New Year's Cookies, Low Sugar
PaulaG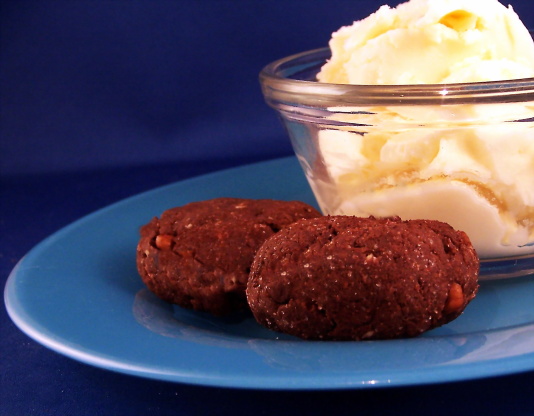 The perfect cookie when you're craving chocolate without all the guilt! Mostly whole wheat, and the only sugar is from the small amount in the semi-sweet chocolate chips. This makes for a lower glycemic index. Makes for a tasty dessert when served with sugar-free ice cream and cool whip. There is no baking powder or baking soda in the recipe.

Made these tonight after supper for a quick dessert for my diabetic DH. I was wanting to make something more like a regular chocolate chip cookie, so I left out the cocoa and replaced it with an extra 1/4 cup of unbleached white flour. I also used mini chocolate chips. I did flatten them slightly but should have pressed them harder because these cookies do not spread at all. They smelled delicious as they were baking (mmm ... warm chocolate - what's not to like?) and I thought they tasted pretty good. DH wasn't as thrilled with them as I had hoped, but I will try them again & will try using the cocoa in the dough as well. Thanks for posting! -M =)
Mix together the oil, sugar substitute, egg and vanilla until smooth.
Sift together the flours, cocoa powder and salt.
Stir dry ingredients into the wet ingredients.
Mix in chocolate chips and nuts.
Form into 15 1-1/2 inch balls and place on non-stick cookie sheet.
Bake in a preheated oven at 350 degrees for 10 minutes. Cool for 10 minutes.
While still warm, dust cookies with cocoa powder.