AmyMCGS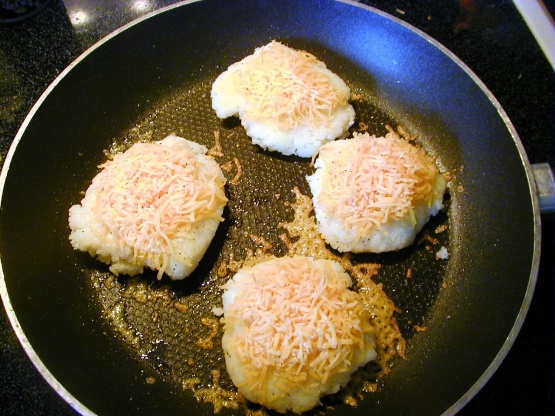 This is something I came up with when my daughter asked for cheesy hash browns and I had no raw potatoes in the house. She now asks for "Gracie Potatoes" at least once a week.

i made these the other night with steak and baked beans...the whole meal was perfect! the potatoes were an excellent side dish and i got rave reviews...my whole family loved this!!! thank you!!!
Pour milk over the potato flakes and set aside.
Heat non stick skillet to medium.
(Cooking oil or butter maybe used but will be absorbed by the potatoes). While skillet is heating stir the potatoes and milk until flakes are completely dissolved and mixture is thick but not crumbly.
Form potatoes into palm size "patties" approximately 1/2-inch thick.
Carefully place patties in the skillet leaving plenty of space between them.
Fry for approximately 4 minutes and turn carefully.
(They will break if you are not careful to get the spatula completely underneath them). Cover each patty with 1/4 of the cheese and cook until cheese is melted.
You can add additional seasoning (salt, pepper, chili powder) to the potato mixture per your own taste.
You can also use your own choice of cheeses.