Brenda.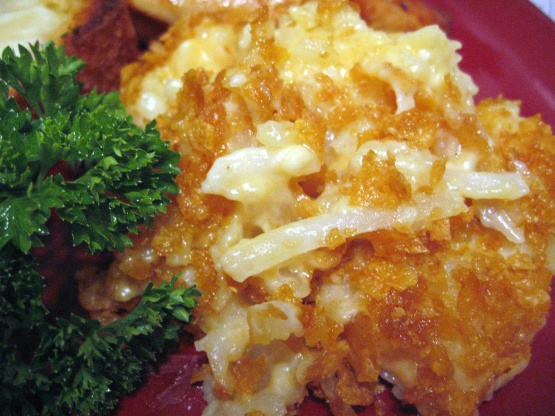 Grace is a very sweet neighbor lady and this is her recipe. Very rich and delicious, we make it for special occasions. Enjoy!

Really liked this dish, easy to make and really good too! Bought two boxes of frozen hash browns and layered 6 squares on the bottom layer, then the soup and spices, then the cheese. Makes two layers with 6 squares that way and turns out great. Didn't defrost the potatoes, just used them straight from the freezer. Excellent!!!! Also added touch of cayenne pepper to the sauce mixture and some chopped onion or dried onion flakes.
Mix all ingredients together EXCEPT the potatoes, grated cheese, corn flakes and 1/4 cup melted butter.
Spray a 9 x 13 pan with non-stick spray. Layer the potatoes, sauce mixture, and grated cheese in the pan. Repeat the layers until the ingredients are used up.
Top with crushed corn flakes and pour 1/4 cup melted butter over the top. Bake at 375 degrees F. for 1 hour.