Gr8 Green Salad With Lemon, Garlic Vinaigrette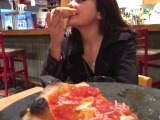 Directions
In a container, (I use a Ball jar) mix the lemon juice, oil, garlic, Dijon and a pinch of salt and pepper.
Shake vigorously.
In a large salad bowl toss all other salad ingredients and dress, to taste, with the vinaigrette.
Serve.
Reviews
Most Helpful
I really loved this, though it was really tangy, so may add a little sugar to the dressing next time. Maybe we have very juicy lemons in NZ! However, the flavours and texture was fantastic, thank you.
A wonderful mix of flavors and, particularly, textures. A very green, green salad. The herbs, especially, make this quite special. I shall be making it again!