Gov Oatmeal Chocolate Chip Cookies
GaylaJ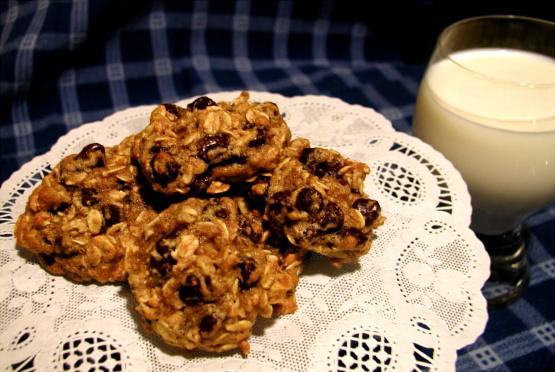 This recipe came from the Garden of Vegan cookbook-these are one of the best cookies i have ever had. I made a few changes to the recipe to cut down on sugar and oil.

Top Review by GaylaJ
While I am not vegan, I do enjoy trying healthier recipes. These were surprisingly good. I had some doubts when dropping them onto the cookie sheet (I used parchment as well) as they seemed rather wet, but they baked up very nicely. I baked them in a convection oven at 300F and they were perfect right at 12 minutes. They are easy, healthy, and delicious---you can't go wrong there. I probably would have rated them 4 stars if they used a lot of processed ingredients, but the healthy angle here, I think, deserves that extra star. Thanks for sharing the recipe!
preheat oven to 350°.
Make sure chocolate chips, maple syrup, and sugar are vegan.
In large bowl, stir flour, sugar, oats, soda, powder, salt, and chocolate chips.
In a blender, blend banana, applesauce, maple syrup, and vanilla.
Mix the two mixtures together.
Add more applesauce or maple syrup if mixture is dry.
Spoon onto lightly oiled baking sheet.
Bake for 12-15 minutes or until they look done.