Gourmet Shrimp Enchiladas
Jostlori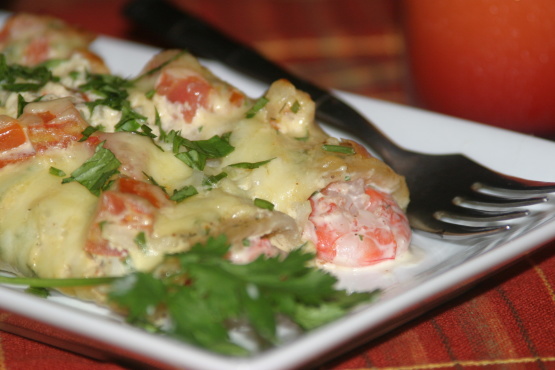 This recipe was given to me a few years ago. It is absolutely mouth watering. The fontina cheese is a must, though a little more expensive. I wouldn't recommend trying to make these without it. Light cream cheese and sour cream can be used in place of regular. Enjoy.

What lovely enchiladas!!! Being hispanic, I always approach Mexican food recipes with some trepidation - but these were easy to make and wonderful. I followed the recipe exactly except for at the end. For the sauce, I went ahead and incorporated the minced onion, parsley, salt and pepper to the cream cheese mixture instead of mixing them with the tomatoes. The tomatoes were added alone, followed by the cheese. These are keepers and I can't wait to try them with chicken. I agree with Sous Me - these are company worthy! Thanks for posting, Jekase!
Filling:
Combine sour cream and cream cheese. Beat by hand until smooth. Add remaining ingredients and combine well. Set aside.
Sauce:.
Heat half and half with cream cheese until melted and smooth (I use the microwave).
In a separate small bowl combine tomatoes, onion, parsley, salt, and pepper.
To assemble:.
Lightly oil a shallow casserole large enough to hold 8 enchiladas in one layer. Pour enough of the cream cheese sauce to just lightly coat the bottom of the pan. On the center of each tortilla, place about 3 Tbls. filling mixture. Roll up and place seam-side down in casserole. Pour remaining cream cheese sauce over the enchiladas. Cover with tomato mixture and sprinkle with fontina cheese. Bake at 475 degrees for 10-12 min., until filling is hot and bubbling.