Gourmet Shrimp Enchiladas
Jostlori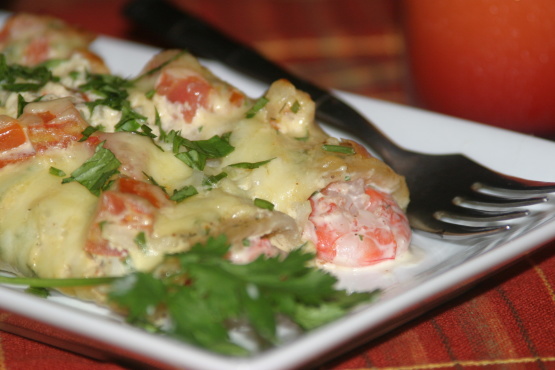 This recipe was given to me a few years ago. It is absolutely mouth watering. The fontina cheese is a must, though a little more expensive. I wouldn't recommend trying to make these without it. Light cream cheese and sour cream can be used in place of regular. Enjoy.
Very yummy! I added a small can of hot green chiles, 1/4 tsp cumin and a 2 cloves of garlic to filling. In addition, I subbed cilantro for parsley and used smoked fontina. Definitely will be making this again. Company worthy.
Filling:
Combine sour cream and cream cheese. Beat by hand until smooth. Add remaining ingredients and combine well. Set aside.
Sauce:.
Heat half and half with cream cheese until melted and smooth (I use the microwave).
In a separate small bowl combine tomatoes, onion, parsley, salt, and pepper.
To assemble:.
Lightly oil a shallow casserole large enough to hold 8 enchiladas in one layer. Pour enough of the cream cheese sauce to just lightly coat the bottom of the pan. On the center of each tortilla, place about 3 Tbls. filling mixture. Roll up and place seam-side down in casserole. Pour remaining cream cheese sauce over the enchiladas. Cover with tomato mixture and sprinkle with fontina cheese. Bake at 475 degrees for 10-12 min., until filling is hot and bubbling.