ChefLee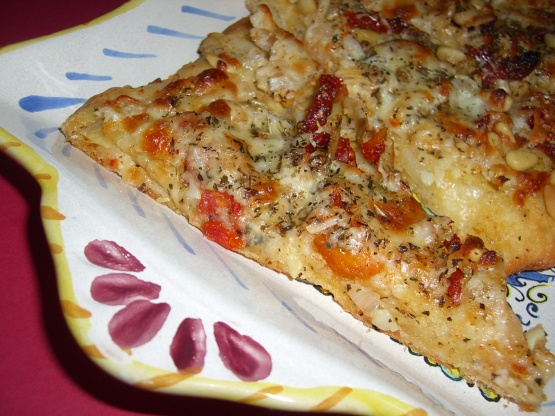 I made this for one of the RSC contest and never posted it. This is full of goodness from the Artichokes, pine nuts, sun dried tomatoes, shallots and herbs. This can be put together very quickly with jarred ingredients from the pantry and fridge.

Yum! Great combination of flavors! I really enjoy pizza without tomato sauce and this one was a big hit. I subbed non- dairy cheese but otherwise followed the recipe. Will make again for sure!
Preheat oven to 425 degrees.
Roll out dough. Brush olive oil on dough.
Arrange remaining ingredients on dough.
Place in oven for 10-15 minutes.
Let sit 5 minutes before slicing.