Derf2440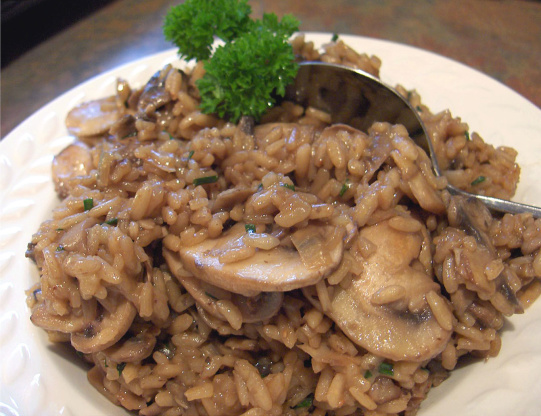 In college, my friend Angela and I went to visit her granny. She made this for us. It was the first time I'd ever experienced anything like it. It was delicious and her granny gladly gave me the recipe.

7-10 STARS!!! My only caveat is that I didn't use ALL the broth. I was shy about a cup, thinking I didn't want to over cook. Better over than under, I say. DELICIOUS DELICIOUS DELICIOUS. Smells amazing while cooking (after the wine, I used a champagne/sparkling wine). The chives and wine and butter are a winning combination. I used an oninon in place of 2 shallots. and canned mushrooms for half the mushrooms (not cooking them but adding them to the others) and a bit more parmesan cheese and slightly more chives. Don't forget the addition of salt and pepper, espically the pepper. USE ALL THE BROTH!!! One of my favorite recipes on the Zaar!
Heat the broth over low heat.
In a large saucepan, heat 2 tablespoons of oil and cook the mushrooms until soft. about 3 minute
Put the mushrooms and the liquid in a bowl and set aside.
Add the remaining 1 tablespoons oil to skillet, and cook the shallots for 1 minute.
Stir in the rice,coating it with oil, about 2 minutes.
When the rice has taken on a pale, golden color, add the wine, stirring constantly until it is fully absorbed.
Add 1/2 cup broth to the rice, and stir until the broth is absorbed.
Continue adding broth 1/2 cup at a time, stirring continuously, until the liquid is absorbed and the rice is tender-firm.
Remove from heat, and stir in mushrooms with their liquid, butter, chives, and parmesan. Season with salt and pepper to taste.