Gourmet Magazine's Cinnamon Blueberry Muffins
Ms B.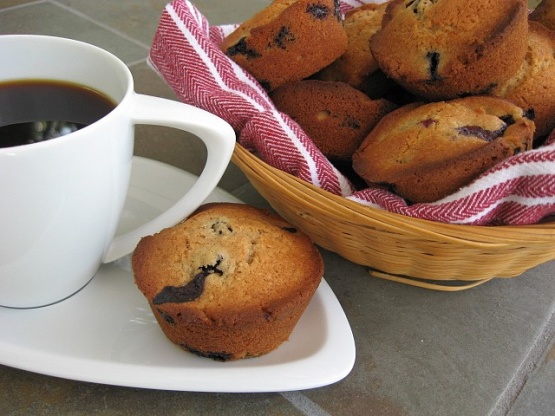 Moist, easy to make, and delicious. From Gourmet, July 2006.

This recipe is fantastic. The batter has a brown-sugar and cinnamon flavor that I have yet to experience in any muffin I have made. I used dark brown sugar because that is what I had on hand. I cut the amount down from one cup to 3/4 cup and I found it to still be very sweet. Definitely one to make again.
Put oven rack in middle position and preheat oven to 400°F
Put liners in muffin cups.
Whisk together butter, brown sugar, milk, and egg in a bowl until combined well.
Whisk together flour, baking powder, cinnamon, and salt in a large bowl.
Add milk mixture and stir until just combined.
Fold in blueberries gently.
Divide batter among muffin cups and bake until golden brown and a wooden pick inserted into center of a muffin comes out clean, 25 to 30 minutes.