Gourmet Magazine's Asian Cucumber Ribbon Salad
Ms B.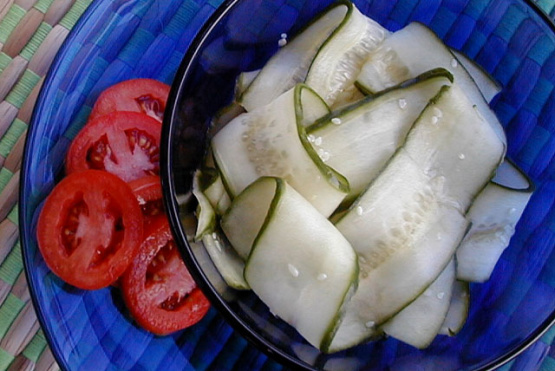 This is a simple, light, and refreshing recipe from Gourmet Magazine. Cooks' Note: Do not let dressed cucumber salad stand more than 20 minutes before serving, or it will become soggy.

We followed the recipe, except we removed the seeds & mandolined our cucumber into strings. A perfect & quick salad to our summer barbecue dinner. Thank you very much for posting this recipe! I look forward to trying it again with grated ginger or sesame seeds ....
Bring vinegar and sugar to a simmer, stirring until sugar is dissolved, then cool to room temperature. Stir in soy sauce and sesame oil.
Cut cucumber lengthwise into 1/8-inch-thick ribbons using a mandoline or other manual slicer. Toss cucumber with dressing and let stand 5 minutes before serving.