Gourmet Madeleine Cookies
April Thyrme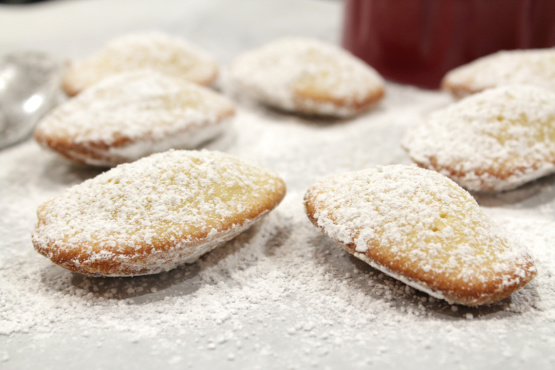 Delicious and soft French cookies. The recipe is from Bon Appetit Magazine (January 2000). "This cookie launched a thousand memories — and a literary masterpiece — for Marcel Proust. The group enjoys madeleines with tea, just as the narrator did in Swann's Way." Uses a special madeleine pan (a metal mold with scallop-shaped indentations, sold at cookware stores).

Great Recipe! I find that 13 minutes in the oven is definitely the sweet spot! Cookies taste great!! I also added a bit of lemon juice when adding the lemon zest.
Preheat oven to 375°F Generously butter and flour pan for large madeleines (about 3x1 1/4 inches).
Using electric mixer, beat eggs and 2/3 cup sugar in large bowl just to blend. Beat in vanilla, lemon peel and salt. Add flour; beat just until blended. Gradually add cooled melted butter in steady stream, beating just until blended.
Spoon 1 tablespoon batter into each indentation in pan. Bake until puffed and brown, about 10-16 minutes. Cool 5 minutes. Gently remove from pan. Repeat process, buttering and flouring pan before each batch. (Can be made 1 day ahead.).
Dust cookies with powdered sugar.