Gourmet Mac & Cheese W/ Lots of Variations
sheepdoc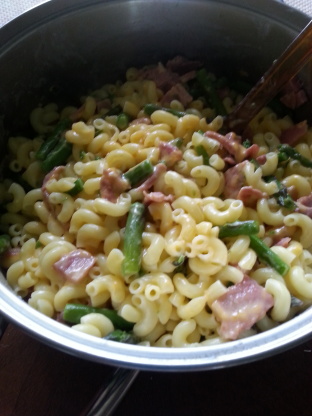 Tweak the spices to your liking. I like it also without the paprika, but garnished with a sprig of fresh rosemary. Also try making it cheesier or adding or substituting cheeses. I've made an excellent one with brie. I've also used canned tuna instead of chicken for a quicker version. I have also experimented with different seasonings and rubs for the chicken or tuna, including celery salt, cayenne, rosemary, cumin, etc. Changing the pasta also greatly changes the flavor as well, in my opinion. Can be made with dried spices but I recommend fresh! To go above and beyond, you can also bake the finished casserole with a breadcrumb or other topping.

Top Review by LaraKN
This was good, not fabulous. I had a 6 ounce chicken breast, but I was the only eating so I made one serving of the recipe. Afterwards I realized the system didn't scale the cream correctly, it called for 1/4 of a quart, 1 cup, which I reduced to 1/2 cup. I think if I did 2/3 cup down to 1/3 cup it would not have been enough sauce. I did just as the recipe called and tasted. Couldn't taste the goat cheese, so I added another ounce (6 ounces of you make the full recipe), and I topped with another ounce, so 3 times the goat cheese it called for. If using cheddar or a hard cheese it might have to be even more than that. I also topped with a shake of paprika. Like the flavor of the herb & paprika with the goat cheese. Also, it was much more than 1 serving. I am a hearty eater and I ate a full dinner and have enough left over for lunch. For dinner I'd say this would serve 8 easily, more likely 10 for the full recipe. Lastly, It is classified as a one dish meal, which I would mostly agree with, I could have used a green salad or something like that with it, but it is certainly not a one pan meal.
Preheat oven to 400°F.
Season chicken breasts with paprika (or other spice), salt, and pepper. Set aside.
(Note: for tuna: saute and bake can add a nice flavor, but skip one or both steps to save time).
In a large saute pan, heat olive oil and brown chicken on both sides
Bake for 8 to10 minutes.
Remove from oven and let cool then dice into large pieces.
Heat cream in large saucepan. Add herbs, salt, and pepper. Reduce by half.
Add the cooked pasta, cheese and cooked chicken and simmer for 2 minutes.
Remove from heat and serve.