Gourmet Cruisers' Vegetarian Pizza
Prep 30 mins
Cook 20 mins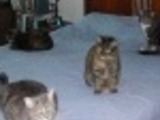 Submitted for Zaar World Tour 2006, a real veggie delight:D Very tomato-ey and colorful. If you prefer to make your own dough, we suggest Steve's recipe no. 8497 or littleturtle's recipe no. 112643:D
1 pizza dough (Boboli or Pillsbury, etc.)
1 (6 ounce) can tomato paste
2 garlic cloves, minced
1 1⁄2 cups mozzarella cheese, shredded
2 cups spinach leaves (fresh, or 1 cup defrosted frozen)
1⁄2 cup mushroom
1⁄2 cup tomatoes, chopped
1⁄2 cup broccoli floret (small)
1⁄2 cup bell pepper, chopped (preferably yellow or orange)
1⁄4 cup onion, chopped
1⁄4 cup black olives, sliced
1⁄4 cup sun-dried tomato, slivered
1 tablespoon italian seasoning
salt and pepper, to taste
Directions
Preheat oven to 400 degrees Fahrenheit.
Prepare pizza dough according to directions (if using a recipe) and cook for 10 minutes at 400 degrees (if desired, and omit this step entirely if using pre-cooked dough).
Mix tomato paste with 1/4 cup water and add a bit more, a little at a time, until desired consistency is reached. Add garlic and mix well.
Spread tomato sauce evenly over dough, leaving a half inch or so for crust.
Sprinkle toppings over pizza, more or less in order given. (If you prefer to end with the cheese, that's okay too.).
Sprinkle with seasonings.
Bake at 400 degrees for 15-20 minutes.
Slice and eat.
Reviews
Most Helpful
I love veggie pizza! I did use a prepared sauce and omit the broccoli, but otherwise followed the recipe. I also added grated parmesan before baking. The pizza was very colorful and the options are endless. I rated this a four as I thought the sauce as written needs more flavor. Terrific job by your team!

This was really good! I am a sucker for vegetarian pizza. I used my homemade pizza dough recipe. And topped as posted using canned mushrooms, and chopped frozen spinach (all I could find) and yellow onions. I think there were simply too many wonderful flavours all put together. They tended to cancel each other out. Every bite was interesting though!

This recipe is so easy and tastes great. We love cracker thin crust and this is it. I stretch the dough really thin and then spread olive oil on top before baking on a sheet of foil for 10 mins. Then I put the toppings on and put it back in the oven without the foil and bake for about 10 more mins and it always turns out great
Everyday Party Ideas >