Gourmet Balsamic Strawberries
Boomette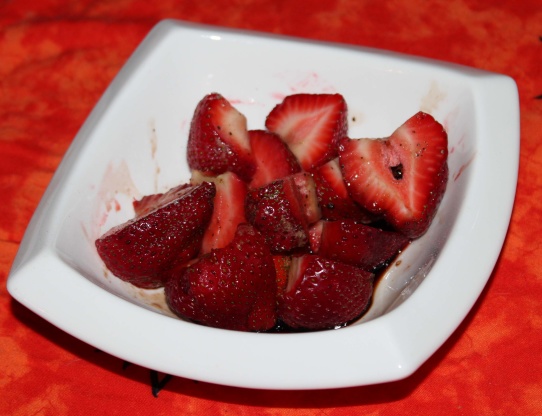 These are sensational. Treat your tastebuds to this very easy and healthy snack or dessert. The flavours are complementary and are really worth a try!
I made half the recipe for me and DH. And I let it on the counter 20 minutes to marinate. DH didn't really like it because of the balsamic vinegar. It's not a taste he really likes. So I was lucky to have it all for me. For me it's delicious. The taste of the balsamic vinegar, black pepper, vanilla, and the splenda gives a great taste to the strawberries. It was not too sweet. It was perfect. Thanks Delicious Bits :) Made for PAC Spring 2013
Mix all in a dish and marinate at room temperature for 20 minutes or refrigerate overnight.
Alternative Notes: Make a glaze: In a small saucepan, mix 2.5 Tb caster sugar (no substitutes ie. not splenda), vanilla, pepper and balsamic vinegar with 2 tablespoons of water and cook over a low - medium heat, stirring continuously, until all of the sugar has dissolved and the mixture has reduced by half to a sticky syrup. (This takes about 5 minutes). Allow to cool. Pour over strawberries and marinate for 1 hour.
Serving Suggestions: Serve as is, or on hot pancakes or crepes with vanilla ice cream, or in a tall martini glass with vanilla creme fraiche or vanilla yoghurt garnished with freshly milled cracked black pepper and pistatios or lightly toasted almond flakes and a basil or mint leaf, or topped on a bowl of vanilla ice cream, or on a chocolate fudge (300ml cream with 300g dark chocolate melted and combined then divided into 4 serving cups and refigerated for an hour til firm) with a dollop of cream.