Gourmet Alley Steak Sandwich
Prep 15 mins
Cook 25 mins

At the Gilroy Festival in California, Gourmet Alley chef Lou Trinchero oversees a team of cooks that produces as many as 21,200 of these mouth watering sandwiches during the three day festival! Barbecued beef topped with sauteed sweet peppers and garlic brings people back year after year. Adapted from Country Living magazine(July 1987)
Directions
On an outdoor grill, or in the broiler, grill steak to desired degree of doneness. Set aside, keep warm.
In a large skillet, heat oil and butter over low heat; saute the garlic until tender.
Split rolls: brush lightly with some of the garlic butter. Toast on the grill or under broiler until golden.
Quarter, seed, and thickly slice peppers. Coarsely chop onion. In the garlic butter remaining in skillet, saute the peppers and onion until just tender. Add 1/2 teaspoons salt and the pepper.
Thinly slice the steak. Sprinkle with the remaining salt. Arrange on bottoms of rolls. Top with pepper mixture and tops of rolls.
Serve immediately. Enjoy!
Most Helpful
Yes...I can quite understand why they make over 21,000 of these chaps over the three day festival...they are just DELICIOUS!!!
I used huge parmesan subs from my local bakery ( they looked too good to not buy!). Unfortunately it was bucketing down with rain, so I was forced to cook the steaks indoors. I ended up pan frying mine, as my grill is currently dead ( SO not good!). After I had sauteed off the garlic and butter in a pan, I gently dipped my split rolls straight into the pan rather than brushing on the mixture, and I put them into the oven,just for a few minutes to toast up ( I had it on anyway!).
Once filled, these babies looked so impressive, and tasted divine. DH munched away happily, and demanded to know what I had done to the rolls, as they tasted fantastic.
A really scrummy sandwich, that WILL be making a repeat appearance in my house without fail-thanks Sharon for a sure fire winner.
Made with pleasure for AUS/NZ Recipe Swap #51.

This is a great pepper steak sandwich! Made in a frypan rather than grilling and using the toaster for the rolls, this was a hit. I made my own sauce of mayo, sour cream, and dill and it really made the sandwich 'pop'. Combined with the wonderful technique of making garlic rolls, I can't wait to have it again. Thanks for sharing the recipe.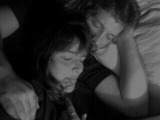 I had leftover steak so I gently heated it with a bit of beef broth while I cooked the onions/peppers in another pan. I must confess to adding cheese to the buns as they were <br/>broiling....we love cheese! A nice recipe for a hot summer night, thank you!