teresas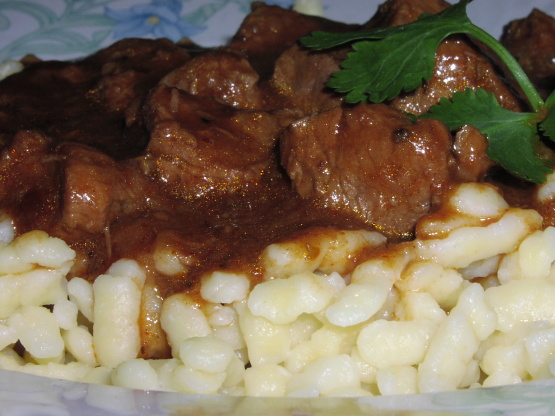 This recipe is from an 80s cooking show We're Cooking Now. I've made this several times both with the spatzle, or regular egg noodles.(but the spatzle is kind of fun!)

A "proper" goulash, used a bit more caraway seeds and I floured the beef before frying it. When I did all the steps up to simmering, I transfered it to the crockpot and left it there for about 8 hours. The spatzle ended up looking very rustic because I did not have a colander with holes that were big enough and I ended up using a spoon and drizzling the dough into the water. But the main thing was the taste, all I can say is that it was an excellent meal!
Cut meat into 1-inch cubes.
Brown onions in oil in a large heavy flameproof casserole or saucepan.
Add meat cubes and brown.
Sprinkle with flour.
Add paprika, marjoram, caraway seed and tomato paste.
Add stock or enough water just to cover meat.
Bring to a boil, reduce heat; cover and simmer 1 1/2 hours or until meat is tender.
Add additional flour to adjust the consistency, if desired.
SPATZLE: Sift dry ingredients.
Beat in eggs.
Add enough milk to make a heavy dough or batter.
Force through large-hole colander into a pot of rapidly boing salted water.
Boil for 6-8 minutes.
Remove with slotted spoon.