JustJanS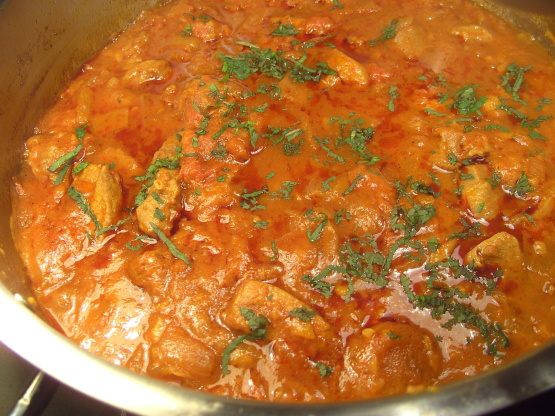 This is a lamb curry that is sure to warm you up from the inside, by the look of the ingredients. I am yet to make it myself.

This is a lovely simple recipe that turned out really well for us. We made enough for two using a little less meat than the third recipe called for. That works for us as we don't eat much red meat but love lots of sauce. The method mentions tomato paste which doesn't show up in the list of ingredients. I used a couple of teaspoons for the third of a recipe we made. I would definately make this again thanks djmastermum.
Heat 1 tablespoon of the oil in a large saucepan, add a third of the lamb and cook over high heat 4 minutes. Repeat with the remaining lamb adding two more tablespoons of oil. Remove the lamb.
Heat remaining oil in pan. Add onion, cook over medium heat 10 minutes.
Add garlic, ginger and chilli.
cook 2 minutes, then add the spices, cook further 3 mins, or until fragrant.
Add tomatoe, tomatoe paste the lamb 1 teaspoon salt. Mix thoroughly.
Reduce heat and simmer for 1 1/2 hours, stirring ocassionly.
Uncover and increase heat and cook 10 mins to allow the sauce the reduce and thicken.