vrvrvr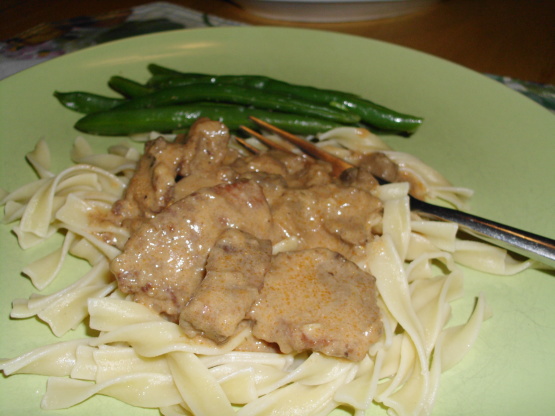 So good! Hope you like it too.

Top Review by vrvrvr
Call Gorman and tell him this is a winner! Great beef stroganoff. The recipe doesn't say to slice the beef into strips, but that's probably understood. After I sliced my pound of sirloin, I put it in a bag and tossed with the flour, salt and pepper, along with a teaspoon of smoked paprika. While simmering, it needed more liquid. Easy enough: I added beef broth and water. A tablespoon of sherry, too. The long (1 hour) simmering time insured a very tender bite. I really loved this recipe because I didn't have a lot of sour cream, and 1/2 cup stirred into the skillet at the very end was *perfect*. Thanks for posting this!
Coat meat with flour, salt, & pepper (meat mixture).
In a large heated skillet: add butter to melt and then add meat mixture and brown meat quickly on both sides (just brown meat not cook).
Add onions, garlic, ketchup, and mushrooms to skillet and cook 4-5 minutes.
Add beef broth or bouillon.
Cover and simmer for 1 hour.
**Uncover and mix 1/2 cup to 1 cup of sour cream.
Serve over egg noodles or rice.
** Only mix sour cream right before eating.