Linky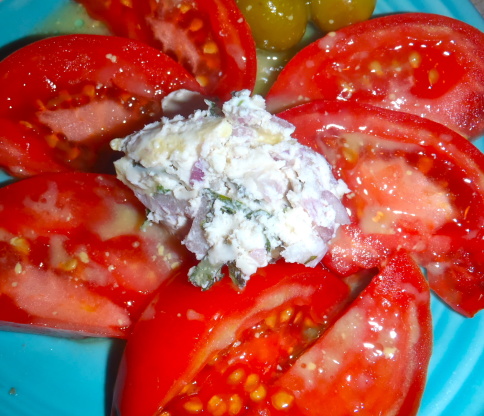 This is wonderful when you can grab your tomatoes straight off the plant....Simple and easy. I suggest you only use fresh parsley and basil for this. Prep time does not include the 30 minutes the cheese spends in the freezer :)

Lovely recipe! My tomatoes were a bit disappointing - so very nice and red on the outside and I even let them sit on the counter a couple of days - not nice and red inside! But one knows that with the right tomatoes this would be outstanding. Even with not perfect ones it was truly very good.
Place the cheese in the freezer for 30 minutes. (Makes it easier to grate).
Grate the cheese into a small bowl. Add the parsley, shallot and basil, stirring gently to combine.
Arrange the tomato slices on a large serving platter or on 6 individual salad plates. Sprinkle the cheese mixture over the tomato slices.
Combine the olive oil, lemon juice, mustard, and salt and pepper to taste. Beat with a wire whisk. Drizzle the dressing over the salad.